Getting a private lap dance is part of the fun of going to a strip club. Who doesn't love to have all the attention focused on them? A lap dance offers more "up close and personal" entertainment.
If you have never had a lap dance, the idea might be enticing but also a little nerve-wracking! After all, the dancers are people you don't know, and you are in a public space and an environment with its own rules and culture. So how do you get a lap dance? What are the rules? What is good lap dance etiquette?
As with anything else, the best practice is to ask questions and educate yourself. Knowing and following some basic lap dance etiquette tips is the best way to have a great time.
Keep Your Phone Away from the Party
Keeping your phone in your pockets is a good policy. You will have a better time focusing on the entertainers and your friends rather than looking at your phone. If you want to engage with the beautiful dancers, don't be staring at your phone! Who would want to dance for someone paying more attention to their phone than you?
But that's not all. You also want to be careful not to photograph the dancers. Taking photos or videos of dancers without consent is not only unethical and poor taste but also might be illegal. Don't be that guy. You can certainly ask for a photo, but don't be disappointed or surprised if the answer is no.
Keep Yourself Covered
You don't have to wear a suit or anything, but please wear appropriate clothing – and keep that clothing on for the duration of your evening at the club. Never, under any circumstances, begin undressing during your lap dance. Don't take off your shirt or unbutton your pants.
Wear clean clothes and respect any dress code the club may have.
Don't Touch the Performers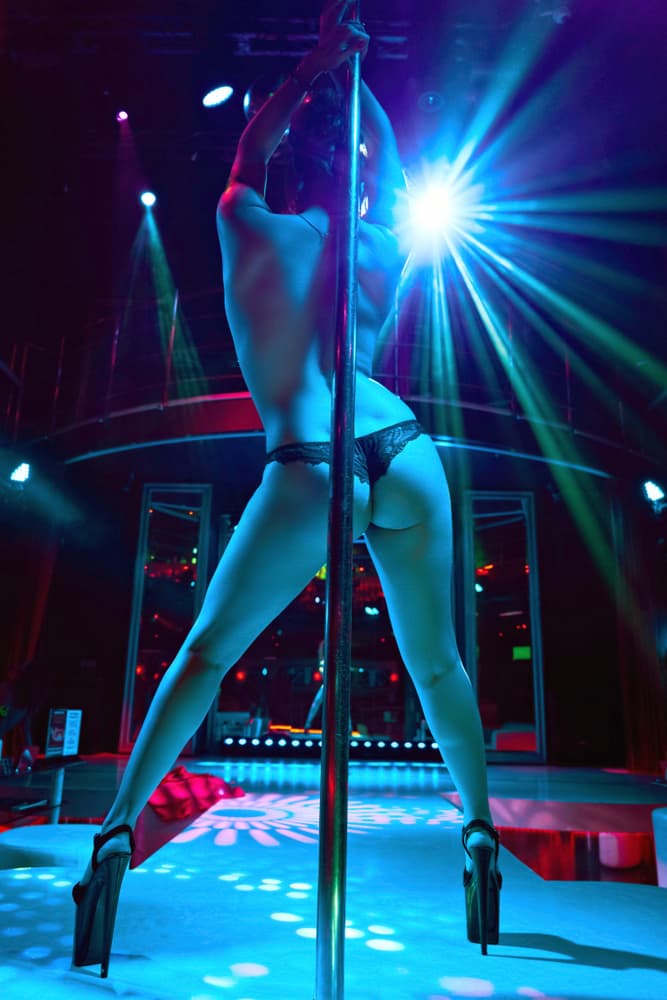 Part of lap dance etiquette is knowing what is and isn't appropriate regarding touch. In general, assume that you don't touch performers. Most clubs have strict rules about it, and you don't want to break them. That will definitely do if you want a fast ticket out of a club.
Each entertainer is different, and depending on the state and club you are in, the rules may also be different. With that said, it is always up to the entertainer whether any touch is okay, and you should always ask and be prepared to hear a no. If you are told no, don't make a big deal out of it, and neither will they. Just continue to enjoy your private dance and leave it at that.
Practice Gratitude
Be kind and generous with entertainers, and they will return the favor. If you are wondering how to act during a lap dance, ask yourself how you would like to be treated. Be a class act, and you'll be treated as such. Show your gratitude by being respectful, giving compliments, and tipping well. It is greatly appreciated and makes a huge difference in your experience.
Make a Connection, But Don't Catch Feelings
Chemistry is a beautiful thing. You may find that the beautiful entertainer providing your lap dance is insanely hot, funny, sweet, charismatic, and sexy! You may feel like you are truly hitting it off. While feeling a spark and a connection is fine, it does not mean you are destined for a relationship with the entertainer.
You are a client, and just like you, the dancer is more likely to enjoy her evening at work if she deals with friendly, interesting clients. Still, no matter what kind of connection you think you have, you shouldn't take it as a sign to ask her out or be under any illusions that there is something between you. Keep things professional.
Women who dance at clubs are people who have lives outside of the club, many are in relationships, and they are at work. Their job is to offer that sense of mystery, excitement, and fantasy. That's what they do! But don't read anything else into it. Just have fun!
Don't Forget the Cash
Lap dance etiquette extends to how you pay. Don't make the mistake of showing up to the club without cash. Cash is the currency at any gentlemen's club, so be sure to bring enough to cover your evening, helping you avoid feeling awkward and ensuring everyone has the best time.
Party with Tampa's Hottest Girls
Join Tampa's sexiest dancers in our premium gentlemen's club. Enjoy top-shelf drinks, great music, delicious food, and beautiful dancers. Tampa Gold Club is waiting for you with VIP packages to improve your night. Plan your night out at Tampa Gold Club Gentlemen's Club & Steak, call the club for more information on VIP packages, and visit our website to view the menu and our gorgeous gallery.
Join Tampa's Sexiest Party, Every Night!
Every night is a party at Tampa Gold Club Gentlemen's Club & Steak. We have the hottest girls, and they are waiting to make you feel like a VIP tonight! Don't forget about our packages, which are perfect for any size party or occasion. Call us to learn more about our amazing VIP packages.
Image Source: maxstockphoto / Shutterstock
Image Source: Aleksandr Rybalko / Shutterstock